Pond Vacuum Cleaner Wet Dry Fish Tank Aquarium Easy Removal Mud 1400 W Yellow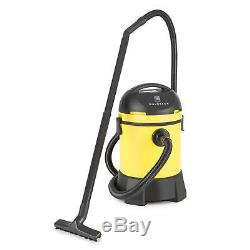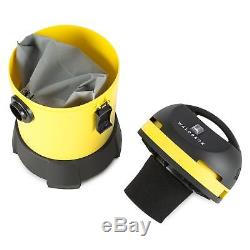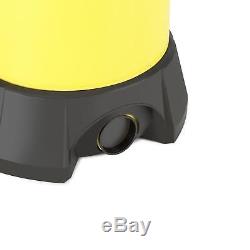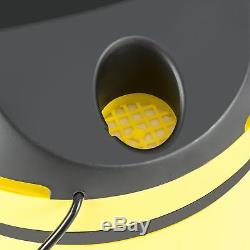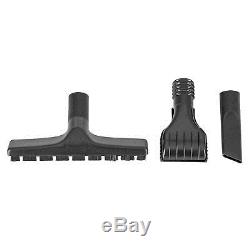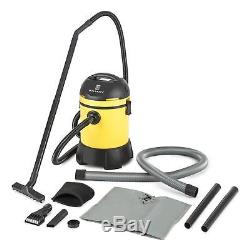 Waldbeck Lakeside Evolution pond mud vacuum cleaner 1400 W 18 kPa drain yellow. 30 liters tank with automatic draining. Suction hose length: 4 m. Also suitable as a wet-dry cleaner. Mud suction vacuum cleaner to remove foliage, mud and mulch from the pond floor.
Up to 1400W power in two work steps. On/off switch on the front of the unit. Including 2 m drain hose for continuous operation. Maximum working depth: about 4 m. Wide bristle attachment for large-area cleaning.
Wider and narrower work attachment for corners, crevices and fish joints. Four-piece, pluggable suction pipe of about 1.9 m total length.
Length of drain hose: 2 m. Electricity supply: 220-240 V / 50Hz. Dimensions (device without hoses): about 34 x 56 x 34 cm (WxHxD). Diameter drain hose: about 5 cm.
Diameter suction hose: about 3.5 cm. Diameter suction pipe: about 4 cm.
1 x Wide bristle attachment. Instruction manual in English (other languages: German).
Robust pond cleaner for the cleaning of ornamental, garden and fish ponds; Easy removal of old foliage, mud and sludge without destroying the pond ecosystem. Powerful 1400W vacuum cleaner with two work stages and three working attachments for cleaning surfaces, corners and angles difficult to reach. 30 liters tank with 2 m drain hose for continuous operation; 4 m suction hose and 1.9 m segment suction pipe for smaller and larger depths. Cleaning the pond and cleaning it properly, with the Waldbeck Lakeside Evolution pond cleaner!
If you call a garden pond your own, you know that especially in the spring a thorough cleansing of the water is absolutely necessary to kill the summer algae blossoming before it even starts. Many then resort to drastic and fatal remedies, taking out plants and animals, drain the water and carry out a thorough basic cleaning so that the pond is again as new. This is exactly the most harmful for the ecosystem garden pond.
This removes not only the unwanted sludge and organic waste, but also all microorganisms and nutrients necessary for the pond climate. The pond has to start its life cycle from the beginning and only the undesirable algae, which soon transform the clean water into a green pond, will benefit.
The correct procedure is the careful cleaning of the pond floor with a mud vaccum cleaner. The right tool is the Lakeide Evolution pond cleaner from Waldbeck. With up to 1400 W suction power and two suction stages, it swallows mud, old foliage and mulch from the pond floor. A 4 meter long hose as well as a 1.9 meter long suction pipe made of four pluggable segment pieces allow a working depth sufficient for most smaller and larger ponds. The sucked-in material can either be collected in the 30-liter tank or be transferred directly to the beds or compost using the connectable 2 meter drain hose. The extremely fertile mud is used to enrich the garden. For optimum cleaning results, the Waldbeck Lakeside Evolution pond vacuum cleaner has three working attachments: a wide bristle attachment for the large-area basic cleaning as well as a wide and a narrow work attachment to free corners, crevices or fishpods from the mud. All attachments can be conveniently attached to the cleaner when not in use. In order to optimize the application area, the Waldbeck Lakeside Evolution v acuum cleaner has a 3 meter long power cable. For a simple and easy movement, even with a full tank, a top-side handle ensures a good grip.
As a device for outdoor use, the Waldbeck Lakeside Evolution is robustly manufactured. Its tank is made of extremely break-resistant plastic, which is unperturbed even with hard objects.
Available colours: yellow , black (article 10031079). The item "POND VACUUM CLEANER WET DRY FISH TANK AQUARIUM EASY REMOVAL MUD 1400 W YELLOW" is in sale since Wednesday, April 04, 2018. This item is in the category "Garden & Patio\Ponds & Water Features\Pond Vacuums". The seller is "hifi-tower" and is located in Germany +. This item can be shipped to all countries in Europe.
Brand: Waldbeck
MPN: PCL5-Lakeside-Ev-YE
EAN: 4260486155021
EU to UK Plug adapter(s) included?



---