Evolution R15VAC 1000w Wet & Dry Workshop Vac With 1700w Remote Power Take-off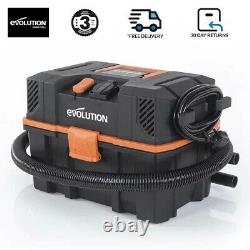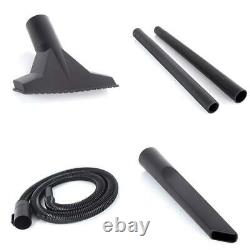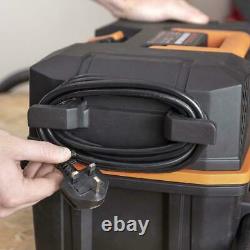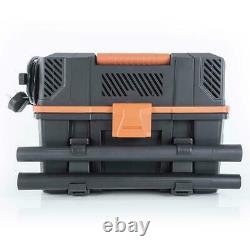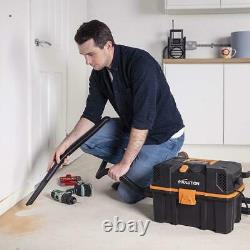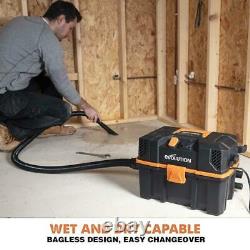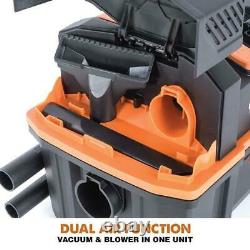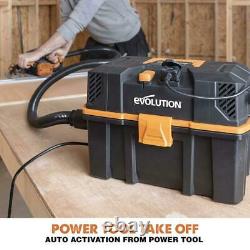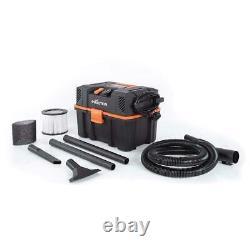 Evolution R15VAC 1000w Wet & Dry Workshop Vac With 1700w Remote Power Take-off. Evolution R15VAC 1000 Watt Wet & Dry Workshop Vacuum. Evolution R15VAC 15L Wet & Dry 1000W Workshop Vacuum With 1700W Power Take-off.
The perfect wet & dry vacuum cleaner for your jobsite, workshop & general cleaning tasks. It's seriously capable with wet and dry functionality and a large quick-empty waste bin. Compact, powerful and incredibly capable with wet & dry functionality the R15VAC is here to help you clean up your act. The power take-off socket simplifies effective dust extraction and collection when used with a power tool by starting the vacuum automatically when you press the start button on the connected power-tool.
Mitre Saw, Table Saw, Circular Saw, it works with any brand of tool. The R15VAC Wet & Dry Workshop Vac also doubles up as a powerful blower ideal for dislodging debris from hard-to-reach areas. The compact design makes it highly portable and ideal for taking between jobs. It features on-board accessory storage for quick access to nozzles, a carry handle & cable tidy. 8L Dry / 9L Wet.
3.2kg / 4.0kg inc tools. 80dB(A) K:3dB(A). Sawdust, woodshavings, dust, and non-silica particulate matter. Moist and wet debris, do not attempt to use as a pump. Fit foam filter around Standard filter.
Powers plug-in tools up to 1700 Watts and automatically starts the vac as soon as you start the tool. Dry and dusty or wet and sludgy the R15VAC will clean them all. Versatile cleaning in all situations. Comes complete with a full set of extensions and end piece attachments to tackle any job. We are an innovator in multi-material cutting tools for wood, plastic, composite, mild steel and non-ferrous metals. We also make a range of groundwork tools including compactors and Electric Disc Cutters/Concrete Saws. We are a proud British brand, headquartered in Sheffield, with 5-star trade rated reviews. 2022 we will be launching an entirely new range of 18V Li-ion powered cordless power tools with cross-compatibility with the Erbauer EXT battery platform. Follow us on social media via our Facebook, Instagram, Twitter and YouTube channels.
Search for the #evolutionpowertools tag to find all the latest product news, content, deals and competitions online. When confirmation of the order is received, this is to indicate that we have received your order.
It does not indicate that a contract exists between us. We will indicate acceptance of your order, and hence a contract between us, when we send you an invoice. We have included this term to protect us in the case that a mistake has been made in pricing, we have inadvertently under-priced goods, or we are no longer able to supply a particular product for some reason. In the case of a change of price, we will always contact you first to ensure that the price is acceptable.
They are only decrypted after they reach our computer. They are not held in clear text on any web site. Such notice must be given by mailing, faxing or emailing us. If you are cancelling because of any problem with the goods, please notify us of the problem at the time of cancellation.
In which case you should. And we will arrange for our carrier to collect the faulty item. Please note: Returning your product within 45 days of purchasing direct from Evolution.
Be unused and in a re-sellable condition. Include all items supplied, including blade and accessories. There should be no parts missing, or have any adaptations or changes to the product. Alternatively, you can call our local rate number.
International +44 (0)114 251 1022 or write to us at Evolution Power Tools, Venture One, Longacre Close, Holbrook Industrial Estate, Sheffield, South Yorkshire, S20 3FR, United Kingdom. In the unlikely event that you have not received all goods within this time, please. The following options are available to choose from, at the checkout stage. UK Non-Mainland & Extended Areas.
Monday - Thursday, (6:00pm Friday). Monday - Thursday (6:00pm Friday). Friday Excludes orders containing the R225DWS Dry Wall Sander or the ST2800 2.8m Track. One minute after order is placed. Sheffield, UK head office only.
Open 08:00 - 17:00, Monday- Friday Applicable to post codes beginning with: DN1 - DN9, HD7 - HD9, S1 - S9, WF4 - WF8. All prices shown include VAT. Evolution Power Tools UK headquarters is based in Sheffield, South Yorkshire. Currently only available in England & Wales.
AB140, AB154, AB155, AB156, AB157, AB158, AB159, AB238, AB239, AB301, AB309, AB314, AB315, AB316, AB319, AB326, AB327, AB329, AB338, AB344, AB345, AB355, AB368, AB379, AB387, AB389, AB392, AB393, AB398, AB399, AB411, AB416, AB417, AB418, AB419, AB420, AB421, AB422, AB423, AB424, AB425, AB429, AB431, AB436, AB437, AB438, AB439, AB441, AB451, AB452, AB453, AB459, AB510, AB511, AB513, AB514, AB515, AB517, AB518, AB526, AB534, AB535, AB536, AB538, AB539, AB544, AB546, AB547, AB548, AB549, AB554, AB555, AB556, AB559, AB561, AB564, AB565, AB569, FK081, FK082, FK083, FK208, IM011, IM012, IM013, IM014, IM015, IM021, IM022, IM023, IM024, IM025, IM026, IM027, IM031, IM032, IM033, IM034, IM041, IM042, IM043, IM044, IM045, IM046, IM047, IM051, IM052, IM053, IM061, IM062, IM071, IM072, IM073, IM074, IM075, IM081, IM082, IM083, IM091, IM092, IM093, IM094, IM095, IM096, IM991, IM992, IM994, IM995, IM996, IM997, IM998, IV011, IV013, IV023, IV024, IV025, IV026, IV027, IV028, IV029, IV035, IV038, IV047, IV057, IV067, IV078, IV088, IV098, IV108, IV118, IV124, IV125, IV129, IV137, IV149, IV150, IV159, IV169, IV170, IV180, IV189, IV191, IV199, IV201, IV253, IV301, IV304, IV305, IV306, IV308, IV316, IV319, IV327, IV361, IV362, IV363, IV369, IV636, IV637, KW014, KW015, KW019, KW026, KW036, KW056, KW066, KW076, KW086, KW096, KW106, ML084, ML085, ML089, ML091, ML092, ML093, ML099, ML106, ML109, ML110, ML111, ML117, ML118, ML119, ML126, ML129, PA200, PA202, PA209, PA212, PA237, PA238, PA239, PA248, PA258, PA268, PA278, PA286, PA289, PA328, PA331, PA344, PA345, PA349, PA351, PA364, PA371, PA384, PH031, PH041, PH052, PH062, PH073, PH074, PH079, PH080, PH090, PH106, PH107, PH109, PH118, PH152, PH165, PH169, PH172, PH185, PH191, PH201, PH211, PH221, PH233, PH243, PH253, PH263, PH269, PH304, PH314, PH324, PH336, PH337, PH339, PH344, PH354, PH394, PH404, PH494, PH504, TD135, TD139, TD145, TD149. PA223, PA296, PA308, PA318, PA626, PA636, PA646, PA656, PA666, PA676, PA686, PA696, PA706, PA716, PA726, PA746, PA756, TR210, TR220, TR230, TR240, TR250. IV212, IV222, IV232, IV243, IV262, IV274, IV283, IV408, IV528, IV538, IV548, KW116, KW126, KW136, KW147, KW148, KW149, PH364, PH374, PH384, PH412, PH414.
HS012, HS019, HS020, HS029, HS033, HS043, HS053, HS065, HS069, HS075, HS085, HS095, IV279, IV409, IV418, IV428, IV438, IV448, IV458, IV468, IV478, IV488, IV499, IV510, IV519, IV558, IV568, KA278, KA279, KA280, KA289, KW151, KW163, KW169, KW172, PA417, PA427, PA429, PA437, PA447, PA457, PA467, PA477, PA487, PA497, PA607, PA617, PA736, PA766, PA776, PA786, PH424, PH434, PH444, ZE010, ZE029, ZE039. Such notice must be given by mailing, faxing or emailing us using the information on our. Evolution Cyclone Magnetic Chip Collector. Pilot Pins For Evolution Mag Drill Broach Cutters.
Evolution Mini Belt Palm Sander Belts 3-packs, 40x303mm. Evolution 300mm Heavy Duty Blade, Segmented Edge, 22.2mm Bore. This listing is currently undergoing maintenance, we apologise for any inconvenience caused. This item is in the category "Home, Furniture & DIY\DIY Tools & Workshop Equipment\Workshop Equipment\Wet & Dry Vacuum Cleaners". The seller is "evolution_power_tools" and is located in this country: GB.
This item can be shipped to United Kingdom.
MPN: R15VAC
Bagged/Bagless: Bagless
Smart Home Compatibility: No
Suitable For: All Wet or Dry Surfaces
Colour: Black
Brand: Evolution
Type: Canister/Cylinder
Runtime: 100% Duty Cycle
Heat Time: 0.5 sec
Charge Time: NA
Capacity: More Than 5 L
Manufacturer Warranty: 2 Years
Voltage: 230 V
Model: R15VAC
Included Accessories: Crevice Tool
Features: Remote Power take, Auto start, Crevice Tool, Upholstery brush, Anti-Drip, Auto Shut-Off, Blower, Carpet Cleaning
Smart Home Protocol: NA
Cord Type: Corded
Item Weight: 3.2kg

---