GVE 370 George wet & Dry vacuum cleaner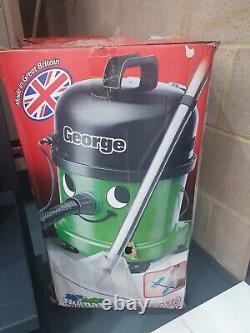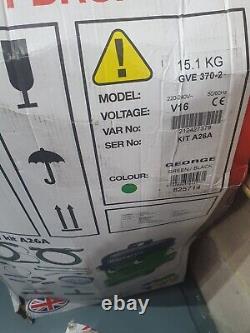 The GVE 370-2 Numatic George wet and dry vacuum cleaner is a fantastic professional cleaning solution for commercial areas. Designed for power and performance, the George gives you all the flexibility you need to quickly clean hallways, rooms and stairs without having to change appliances.
With 17 different attachments, the George has plenty of versatility, allowing you to clean wet spills, as well as traditional hard wood floors, curtains or deep carpets. It's got a huge range too - over 26 meters in total, so there's less time wasted swapping power sockets in comparison to smaller models. And thanks to the durable non-marking wheels and top-mounted handle, the George vacuum cleaner is easy to move to wherever it's needed.
Capacity Dry: 15Ltr Wet: 9Ltr. Dimensions 500(H) x 355(W) x 355(D)mm. Strong non-marking wheels - easy to position wherever needed. Phosphate and phosphorous free with quick clean, care control and eco mode. 6-point core temperature probe provides accurate temperature monitoring. Retractable hand shower for quick and convenient manual cleaning. Wide accessory kit - highly versatile for different cleaning tasks. 4 intelligent assistants: iDensityControl, iCookingSuite, iProductionManager and iCareSystem. 6 Intelligent operating modes, 5 intelligent cooking methods and 3 manual operating modes.
This item is brand new & unboxed, there for may have some slight mark / dents so please check the photos carefully. Please notify us via telephoning our customer service team on 01179 246 002.

---