STIHL SE 33 Wet & Dry Vacuum Cleaner LOWEST PRICE! Free Delivery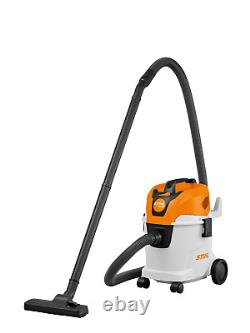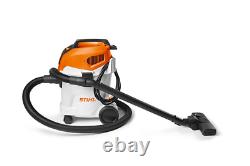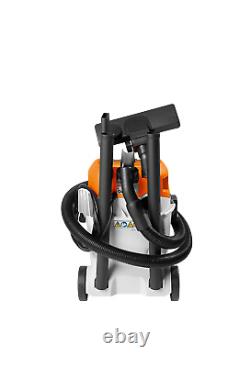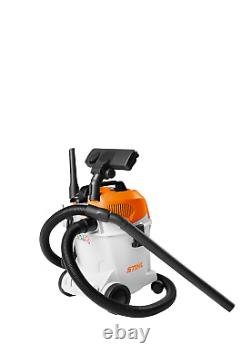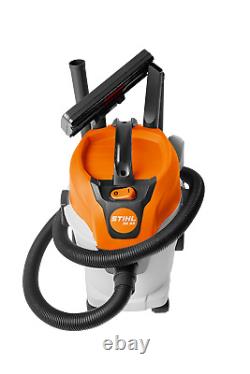 The SE 33 is a compact and powerful 1.4kw vacuum for occasional use cleaning up wet & dry debris in your home, garage, workshop or on your vehicles. It has a powerful suction and air throughput at 210 mbar and 3600 l/min. It also has a convenient blowing function and the reversible floor nozzle means you can switch between cleaning wet and dry surfaces with ease. The SE 33 is compactly sized so it can be stored away easily.
It also has ports on the back of the machine for easy storage of accessories. A washable PET filter, 2 m suction hose, crevice nozzle and floor nozzle are included with the SE 33. Save space when storing the SE 33 away thanks to it's compact nature.
The power cable can be stored on the side of the vacuum cleaner and the suction hose wraps around for optimized storage. Integrated accessory holder to practically store the suction tube, universal nozzle and crevice nozzle away conveniently.
The floor nozzle can easily change between wet and dry vacuuming. The plastic crevice nozzle is ideal for cleaning hard-to-reach areas. The practical blow function increases the application area of the vacuum. Wherever suction is not possible or advisable, cleaning can be done by simply changing the vacuum hose. To change to the blowing function, you simply insert the vacuum hose into the opening on the back of the cleaner.
The device is compatible with the Smart Connector 1.0 and can be easily integrated into STIHL connected.

---