Wet-dry vacuum cleaner 1200 W 60 L socket Industrial vacuum cleaner Commer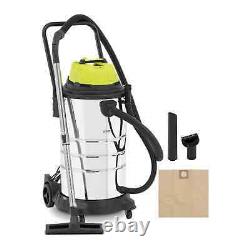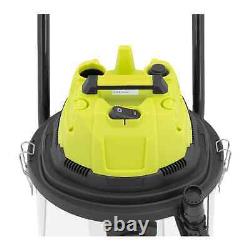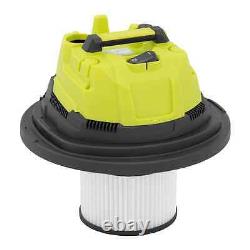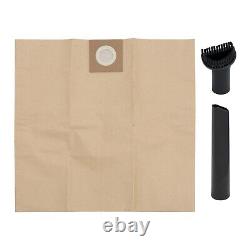 Expert customer service in 9 languages. Wet-dry vacuum cleaner - 1200 W - 60 L - socket FLOORCLEAN 60VO PRO. 1200 W / 18 kPa. HEPA (replaceable) + sponge filter.
Powerful - high-performance motor with 1200 W and 18 kPa for reliable cleaning of large areas. Adjustable - 3 different attachments for different applications. Spacious - with a capacity of up to 60 l. Reliable - combination of replaceable HEPA and sponge filter catches even the smallest particles. Mobile - with 4 smooth-running wheels and a robust handle, the all-purpose commercial vacuum cleaner can be easily moved and transported; the 5 m long cable also guarantees a large range of motion.
Convenient - there is a socket on the unit for devices such as drills or grinders. Do you have a question? With the wet-dry vacuum cleaner from ulsonix, you can thoroughly and quickly remove even the most stubborn dirt from a wide variety of surfaces. In addition to dry floors, the industrial hoover also cleans damp surfaces, making it ideal for use in trade and industry or for effective cleaning of office and business premises.
Thanks to its 1200 W and various attachments (floor nozzle, round brush and crevice nozzle), the wet vacuum cleaner is up to the toughest tasks. With a volume of 60 l, the appliance easily completes several work cycles without you having to empty the container in between. The powerful wet and dry vacuum cleaner for all areas with 1200 W power.
The industrial vacuum cleaner with a long cable and high capacity for large areas. Easy maintenance for a long service life. You adjust the metal telescopic tube individually. The 2 m hose or the telescopic metal tube also allows you to reliably clean hard-to-reach areas or remove liquids or mud. Even after the actual cleaning, the wet and dry vacuum cleaner hardly does any work. The replaceable HEPA filter combined with a sponge filter reliably protects the appliance. The high-quality workmanship guarantees a long service life.
Allow yourself to be convinced by the high quality and great service - order from ulsonix today! Length of the suction hose [m]. Wet and dry vacuum cleaner FLOORCLEAN 60VO PRO.
The brand ulsonix provides highly efficient ultrasonic cleaners at an affordable price. The professional ultrasonic cleaners impresses with a fast cleaning process and a high cleaning frequency.
In the case of these devices, particular attention is paid to the materials used within the manufacturing processes. All ultrasonic cleaning devices from ulsonix impress with the stainless steel as well as the high-quality workmanship. The quality is constantly maintained and controlled in accordance to the required high standards. The production processes are also subject to on-going tests and are always looking to improve, as well as various investigations in regards to the functionality according to strict guidelines.
As a result, our devices guarantee satisfaction and a long product life and functionality.

---